Our Team
Learn more about our great Fitchburg Assisted Living team at The Ridge at Madison!
Health Services Director - Catherine Ebbert-Seffrood, LPN
Catherine has been the Health Services Director at The Ridge at Madison since August, 2020. She has a worked in various skilled nursing facilities, the VA, hospice, and private home care. She has been an LPN for 16 years. Catherine is responsible for overseeing the health and wellness of The Ridge at Madison residents. She cares deeply for Ridge residents and is committed to providing compassionate, high quality care to all we serve.
Dining Services Coordinator - Aaron Johnson
Aaron was recently promoted to Dining Services Coordinator. He has been with The Ridge at Madison since November, 2020. He ensures residents are served high quality, healthy, and delicious meals. Before joining The Ridge at Madison, he worked in several restaurants throughout Dane County honing his skills.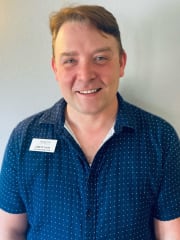 Jarett Yacht, Executive Director
Jarett started working with the senior population as a nutritional aide at the age of 15. He became a Certified Nursing Assistant at the age of 16 and has been in senior care since. Jarett has grown in his career throughout the years by working as a Director of Resident Services, Director of Community Relations and as a Certified CBRF Administrator.
Jarett likes to spend his free time with his family on camping trips or boating local lakes. When Jarett isn't camping or boating, he can be found in his kitchen trying new recipes.